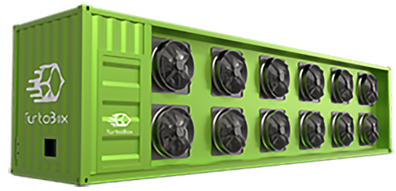 AIR COOLING
Inlet air is cooled by the wet pad and then enters the container to cool the miners. Hot air is discharged by the exhaust fans installed on the other side of the container.
Read More

LS SPRAY LIQUID COOLING
The heat exchanger separates the cooling system into two circuits: coolant and water. Cold coolant will be sprayed into the miners to remove heat. The heat within the liquid coolant will be transferred to the water within the heat exchanger where unwanted heat will be efficiently dispersed into the air by dry coolers.
Read More